MT-360 - Analog PSTN to Cellular Gateway
---
Analog FXS to GSM Cellular Gateway
The MT-360 is an Analog PSTN (FXS) to GSM Cellular Gateway with (1) Channels. The MT-360 can connect directly to the PSTN, PBX or any device with standard FXS analog support. With the MT-360, you can connect to analog ports from a PBX or PSTN and send calls out over the cellular GSM network.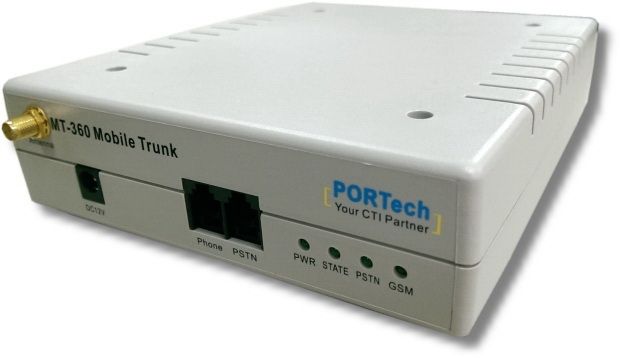 Features:
FXS to Cellular
1 simultaneous call
Conversion of wired & wireless communication
Auto-select economic route
Code Conversion: Through the connection towards the local PSTN line, the phone calls will proceed with a code-transfer dialing process.
Voice volume adjustment
Allow-to-Dial Code (GSM Prefix No.Setting (50 sets))
GSM dial-out code amount configuration
Polarity reversing function
Definition of DTMF reversing signal
Limit of communicating time
GSM function of dialing out the prompt voice
When not connecting to the Telephone Office line, GSM will provide the forced dial-out function
Set up of GSM extra dialing local code
Set up of extra dialing local-code to PSTN
GSM simulated Ring Back Tone function
GSM not ready, the call will be forced to dial out from PSTN
Receive SMS and Send SMS
Follow Me, Call-transfer:
- PSTN to GSM: An incoming call of PSTN will be transferred to specify GSM no.
- GSM to PSTN:
1. GSM in PSTN out, give you a Dial Tone and you can enter any destination number
2. An incoming call of GSM will be transferred to specify PSTN no.
3G Frequency:
U Version:2G 850,900,1800,1900MHz,3G 850,2100 MHz
A Version:2G 850,900,1800,1900MHz,3G 850,1900 MHz
G Version:2G 850,900,1800,1900MHz,3G 800/850/900/1900/2100HMZ
1-year warranty
Specifications:
Phone Impedance: Below DC 1kΩ, AC 600Ω.(not include line)
Phone Ring Output Voltage:45V RMS.
Phone Signal (DTMF) Standard:-3dbm ~ -24dbm.
Phone Signal (DTMF)Time:50~100ms.
DTMF Frequency Rate Error:±1%
Feeder Voltage:48V.
AC Adapter: Input 110V/220V AC.
Have more questions about Portech Cellular or Audio Gateway products or solutions? Call us at 410-583-1701 or email us at questions@pulsesupply.com.