MV-3716 - Cellular to VoIP Gateway
---
16 ports VoIP GSM/UMTS Gateway
The MV-3716 is a 16 channels VoIP GSM/UMTS/4G LTE Gateway for call termination (VoIP to GSM/UMTS/LTE ) and origination ( GSM/UMTS/LTE to VoIP). The system is SIP based and compatible with Asterisk, Trixbox, 3CX, SIP Proxy Server, and VoipBuster. It can be enabled to make up to 16 calls simultaneously from IP phones to GSM/UMTS/LTE networks and GSM/UMTS/LTE networks to IP phones.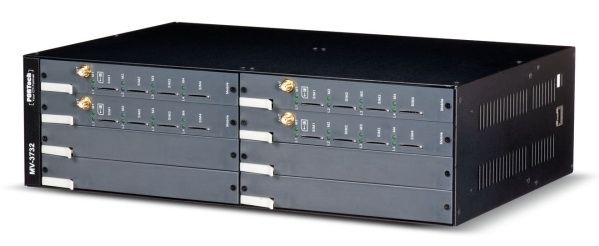 Features:
VoIP (SIP) <-> GSM/UMTS/LTE Conversion
Supports LCR (Least Cost Routing) for cost reduction
SMS/Text receiving and sending
Support for AT Commands - Allows control from external applications or programs
Call Back Service
Enable 1-stage dialing or 2-stage dialing
Backup of CDRs
Supports Virtual SIM with Remote SIM Management (1 SIM or MultiSIM)
Supports USSD Command (SIM Balance and Recharge value)
Easy Web-based interface management
1-year warranty
3G Frequency:
U Version:2G 850,900,1800,1900MHz,3G 850,2100 MHz
A Version:2G 850,900,1800,1900MHz,3G 850,1900 MHz
G Version:2G 850,900,1800,1900MHz,3G 800/850/900/1900/2100HMZ
(An optional 4G LTE version is available)
Remote SIM Bank (optional)
Connect with PORTech VoIP GSM Gateway via internet
SIM cards no longer need to be installed in VoIP GSM Gateway anymore
You can deploy your VoIP GSM Gateway in different locations
Centralize and supervise all SIMs in one place
SIM Server
A non-blocking switching system between a PORTech VoIP GSM Gateway and Remote SIM Bank
Configurable calling time for each sheet of the SIM card
When the time runs out, the system will block this GSM port or switch to the next unused SIM card
Features
Set Talk Time per SIM
Set GSM Group(Assign several SIMs Per GSM Port)
Set Day of week
Set Time Range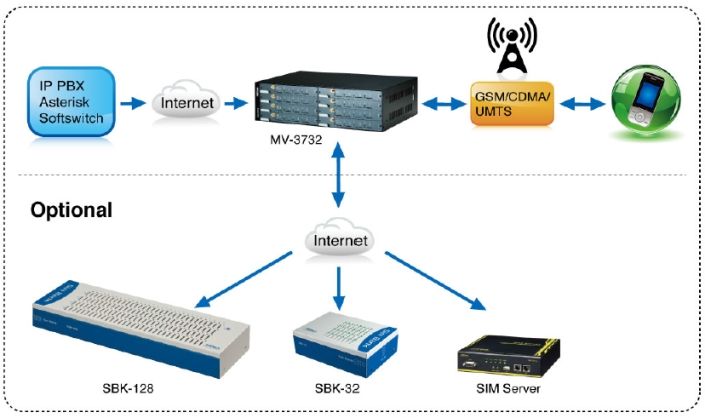 Product Configuration Solutions:
If you need a solution for 16 GSM ports with 1 SIM per GSM port, you can purchase qty (1) MV-3716 (option: SBK-128, SS-128)
If you need a solution for 32 GSM ports with 4 SIMs per GSM port, you can purchase qty (1) MV-3716, SBK-128, and SS-128 or see MV-3732 Cellular Gateway
Have more questions about Portech Cellular or Audio Gateway products or solutions? Call us at 410-583-1701 or email us at questions@pulsesupply.com.